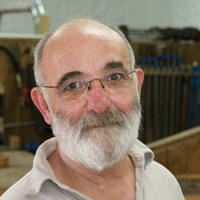 My grandfather and father were professional carpenters and joiners and I spent the happiest days of my childhood sweeping shavings, turning the grinding wheel and getting in the way.
I trained as a biologist and enjoyed the laboratory work as I was able to use my woodworking skills to design and make the equipment needed. I added metal working and electronics, and became a consultant to a scientific equipment company. Later, I qualified as a Master of Business Administration and started a firm that imported, designed and made equipment for target shooting. I was a marksman and coach at international level, so designing and making a target rifle was an obvious project for my firm. The business collapsed in the severe depression of the early eighties so I re-trained as a psychotherapist.
When I retired I felt I had ceased to exist until I joined the Club and was introduced to Michael Huntley's classes at the workshop. I like shiny new hand tools, particularly if they are innovative, but I have promised myself to stop buying them – at least until I am sure I know how to use the ones I already have.
I spend a lot of time at the workshop because I enjoy the companionship, the inevitable banter, sharing ideas and the many ways we help each other.
My twin eleven year old grand daughters come to the workshop and love learning woodwork with me. Chips off an old block!