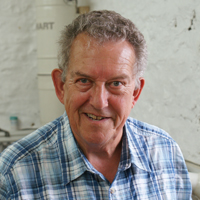 Just prior to retiring from the RAF as a Navigator, after 34 years service, I did a resettlement course covering City & Guilds in woodwork, plumbing, bricklaying and a host of other things. Several of these came into use as soon as I retired!
I particularly enjoyed woodworking and enrolled at Chippenham College to do a one-day per week course aimed at mature students. Having completed a large jewellery box, small table and Grandfather clock, I became interested in turning. The available instruction in that field was limited and I then returned to work as a College Manager setting up the Modern Apprentice scheme at Chippenham.
Having had to wait to develop my interest in turning, I have now been on several courses, covering different aspects of the subject.
I was invited to become Treasurer of Bowood Carving Club, and on 1st January 2008 assumed that post. Since then I have covered many more aspects of woodcraft at varying degrees of proficiency! Restoration, letter carving (a couple of name plates) and chair making have all been experienced and after several years of belonging to the club, I am now finally trying my hand at proper carving.